3.000" x 18" Heavy Duty Kraft Tubes
Chicago Mailing Tubes (CMT) offers 3.000" x 18" heavy-duty kraft tubes with plastic plugs. These mailing tubes are the most sturdy and durable for shipping. The end caps fit nicely to ensure that the products inside do not get damaged and arrive to their destination safely. Our heavy-duty kraft tubes are cost effective and serve as a reliable method to ship all of your commercial, industrial, or personal products for your business.
Chicago Mailing Tube entire manufacturing process is operated in one, cost-efficient location. We operate state-of-the-art machinery to ensure every mailing tube we manufacture is of top quality. Because of our flexible production capabilities, we can meet 24-hour shipping deadlines for our customers.
Contact our service representatives today at (312) 243-6050 for a quote on your 3" x 18" heavy-duty kraft tubes. No minimum order is required!
View all Heavy Duty Tubes
.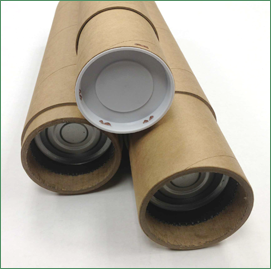 These heavy-duty kraft tubes with plastic plugs are perfect when sturdiness is required. They are perfect for shipping with UPS, FedEx and USPS. Uses include shipping, hardware, drapery rods, antennas, track lighting kits, metal rods and more. End caps fit snuggly to protect the contents.
Please contact us for more information.