4" x 12" Self Locking Kraft Tubes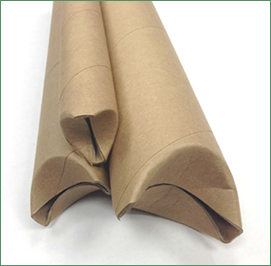 When you ship a long, oddly shaped item, or delicate item, you need packaging that protects your package and complies with mailing regulations. Trust Chicago Mailing Tube Co. for reliable shipping containers with a variety of dimensions, including 4" x 12" crimped-end kraft tubes.
These tubes meet the requirements for shipping with most major shipping organizations, including the United States Postal Service, FedEx, and UPS.
Why Choose a Wider Tube?
Our 4" diameter tubes are our widest available option, though if you do need a wider tube, we can create a one that fits your needs and specifications. These wide tubes can accommodate broader and bulkier items than any other container. For example, a 4" tube can ship artwork printed on heavy canvas or even poster board. These thick materials can prove difficult to ship because they cannot be rolled tight enough to fit into a narrow container.
Use a wide tube for the following:
Large amounts of documents
Thick textiles
Wide objects such as cylindrical lamps or industrial hardware
Our 12" long tubes accommodate most items measuring between approximately 10" and 11.5".
Need a longer tube that still features a wide diameter? Visit our Snap Loc page for a full list of our available crimped-end tube dimensions.
Why Order Through Chicago Mailing Tube?
Since 1902, Chicago Mailing Tube Co. has provided its clients with precise and high-quality shipping containers. We design and engineer each of our products to maximize affordability without sacrificing reliability while your package is en route.
We also work with orders of all sizes and have no minimum order restrictions. This flexibility allows us to offer our services for one-time shipments as well as large-scale business product deliveries.
Think our 4" x 12" self-locking kraft tubes are right for your items? Contact us to request a quote or to consult with our sales staff to ensure that you feel confident about the type and size of container you choose.