4.000" x 18" Heavy Duty Kraft Tubes
Chicago Mailing Tube (CMT) offers 4.000" x 18" heavy duty kraft tubes with plastic plugs and end caps. These high quality kraft tubes are exteremely durable and produced to withstand the toughest transportations. Rest assured that your commercial or industrial products will get to their destination safely. Our kraft mailing tubes also include white end caps that snap into place to hold contents securely. Our caps will stay in place whether you are shipping bulk documents or just a single poster.
Chicago Mailing Tube (CMT) offers a complete series of heavy duty 18" kraft tubes. Because of our tight production process, we have complete, guaranteed quality control over our tubes. CMT operates under one facility, which enables use to be cost-efficient as possible to ensure we are offering you the most affordable shipping tubes. Chicago Mailing Tube is proud to be one of the leading shipping supply companies in Chicagoland, providing eco-friendly, recyclable tubes. We also offer 24-hour shipping services to ensure that our mailing supplies arrive at your business without delay.
Give us a call at (312) 243-6050 to speak to one of our service representatives about ordering your 4" x 18" heavy duty kraft tubes. No minimum order is required!
View all Heavy Duty Tubes
.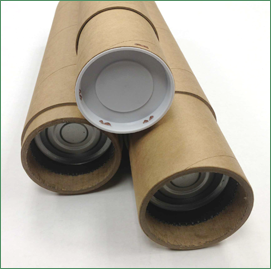 These heavy-duty kraft tubes with plastic plugs are perfect when sturdiness is required. They are perfect for shipping with UPS, FedEx and USPS. Uses include shipping, hardware, drapery rods, antennas, track lighting kits, metal rods and more. End caps fit snuggly to protect the contents.
Please contact us for more information.