4.000" x 42" Heavy Duty Kraft Tubes
Chicago Mailing Tube (CMT) offers 4.000" x 42" heavy duty kraft tubes with plastic ends. CMT's heavy duty tubes are durable, efficient, and designed to secure your goods. Our kraft mailing tubes include snapping end caps that lock into place for maximum security. These heavy duty kraft tubes are manufactured with the strongest kraft material so rest assured that your products get to where they need to be safely. With Chicago Mailing Tube's shipping tubes, we guarantee our caps stay secure during shipment.
Chicago Mailing Tube has a wide variety of shipping tubes and a complete series of heavy duty 42" heavy duty kraft tubes. Our quality products are accessible through a tightly controlled production process. Chicago Mailing Tube's manufacturing plant operates under one roof, therefore, the company operates at top cost-efficiency in order to provide you with the most affordable mailing supplies. We are proud to be an industry leader of shipping supply companies in the Greater Chicagoland Area, manufacturing eco-friendly tubes that are reusable and recyclable. We also offer 24-hour shipping to guarantee a fast delivery.
Give us a call at (312) 243-6050 to speak to one of our service representatives about ordering your 4" x 42" heavy duty kraft tubes. No minimum order is required!
View all Heavy Duty Tubes
.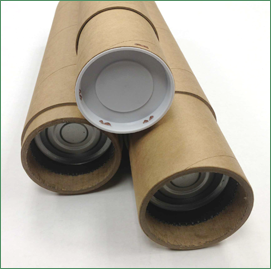 These heavy-duty kraft tubes with plastic plugs are perfect when sturdiness is required. They are perfect for shipping with UPS, FedEx and USPS. Uses include shipping, hardware, drapery rods, antennas, track lighting kits, metal rods and more. End caps fit snuggly to protect the contents.
Please contact us for more information.